Profile(プロフィール)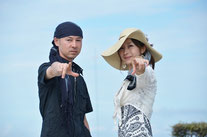 Mrs.GUARANA(ミセスガラナ)
2003年結成
Vo.Hiromi G.Tetsu によるユニット
結成当初は横須賀を拠点とし、JAZZのスタンダードを中心に演奏活動をスタートさせた。
その後、それぞれの経験を活かし、様々なジャンルの音楽に挑戦。
独自のアレンジにこだわり続け、
現在ではジャズスタンダード、昭和歌謡曲、POPS、ディズニー映画の名曲、ジブリ映画の名曲、などなど幅広い年齢層に喜ばれるアラカルトな選曲のステージをお届けしています。
<活動場所>
神奈川県内及び都内のライブハウス、レストラン、デパート、BAR、公共施設、結婚披露宴、祝賀会など各種イベント
Mrs.GUARANA
Mrs. GUARANA, formed in 2003, is a duo unit with Hiromi (vo) and Tetsu (g). Based in Yokosuka, Japan, the unit started with the initial focus on jazz standards. Then they shifted to various type of music, utilizing the abundant musical backgrounds that each of the two has gained. Pursuing their own unique arrangement, Mrs. GUARANA is now actively engaged in live performance, featuring their original tunes. Live houses, restaurants, department stores, bars, public facilities, wedding receptions, cerebration parties or other events around Tokyo and Kanagawa prefecture in Japan. 
ユニット名の「ミセスガラナ」は
南米に生息する赤い実を付けるガラナに由来している。
ガラナの実から抽出したエキスは
栄養ドリンクなどに使用されており
元気が出る成分が含まれている
我々の音楽を聴いた人達が
元気になって欲しいという願いが込められている。
The unit name Mrs. GUARANA comes from guarana, a plant that lives in South America and makes red berry. The extract from the berry contains ingredients that bring vitality to people, and is therefore used for energy drink and so on. So the unit picked up guarana for their name, reflecting their aspiration to give energy to their audience.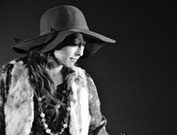 Vocal HIROMI
岩手県沢内村にて、記録的な豪雪の日に生まれる。
3才頃から横須賀で育ち、海あり山あり、自然とアメリカ文化が入り交じった
温かな人情味溢れる横須賀で現在も暮らしている。
小さな頃から人前で歌うことが大好きで、その頃の夢は「ピンクレディーになること!」バンドブーム全盛期の高校時代、バンドを組んでJ-POP、J-ROCKのボーカリストとして活動。その後ROCK、OLDIES、FUNK、R&Bなど、沢山の音楽仲間と一緒に活動し、様々なジャンルの楽曲を歌う。
ライブを聴いてくれた人達からの拍手や声援、元気になれた等のありがたい言葉に励まされ、音楽の素晴らしさ、歌うことの楽しさに増々魅了され、2003年、ギターのTetsuとMrs.GUARANAとしての活動開始に至る。
Vocal HIROMI 
Hiromi was born in Sawauchi village in Iwate prefecture, Japan, on a day of record heavy snow. She has grown up since the age of three in Yokosuka city, where she still lives and has been enjoying the full of the warmth of human touch, fermented under the atmosphere mixed by such natural environment as mountains and an ocean, and American modern culture which has been historically rooted in the area. Since her childhood she has loved to sing in front of audience and had a dream to become like "Pink Lady", the superstar celebrity at the era in Japan. Also, during the heyday of band music in Japan when she was a high school student, she was a vocalist in J-pop and J-rock bands. Then, she cooperated with many other musicians and sang various types of tunes including rock, oldies, funk, R&B and so on. Encouraged by the live audiences' applauses, cheers, and supporting comments (e.g., "her performance is energy-giving"), and more and more fascinated by the wonderfulness of music and by the enjoyment of singing, she has started Mrs. GUARANA unit with Tetsu since 2003.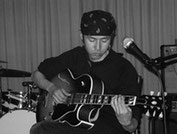 Guitar & Vocal TETSU
神奈川県逗子市出身
6才よりピアノを習いはじめ、音楽的基礎を身につける。
高校時代、当時のバンドブームにのり、ROCKの魅力に取り憑かれたのをきっかけに、初めてエレキギターを手にする。
その後、ROCKのみならず、JAZZ、Blues、R&B、Funkなど様々なジャンルの音楽に触れ、多数のバンドに在籍し、経験を積んだ。それらの経験を活かし、Mrs.GUARANAにおける「ギター1本による伴奏」というプレイスタイルを構築し現在に至る。
 Guitar & Vocal TETSU
Tetsu is from Zushi city, in Kanagawa prefecture, Japan - the city is located adjacent to Yokosuka city where Hiromi was raised. Tetsu started to learn piano when he was 6 years old, so he was able to build his musical foundation. In the high school he played the electric guitar for the first time, fascinated by rock music and taking advantage of the "band boom" opportunity in Japan. He then experienced many style of music such as jazz, blues, R&B, funk, and so on, and joined many bands to develop his musical background further. In Mrs. GUARANA he has established the playing style to "accompany with just one guitar", which he has been demonstrating mainly at their live shows up until now.